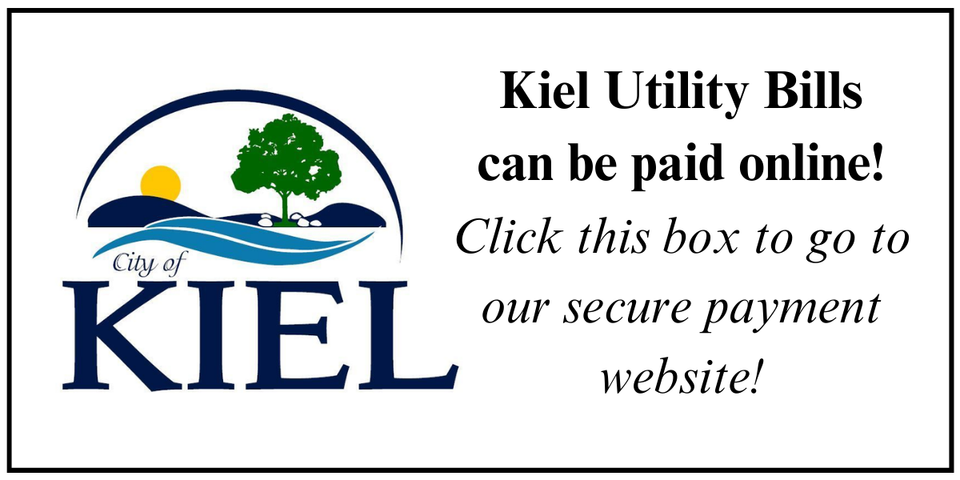 Kiel Utilities gives you several options to pay your utility bill.






Online
Click the image above to be redirected to our secure payment website.

By phone - 1-877-885-7968
This will require the use of a credit/debit card and charges $3.30 for each transaction.

By Mail -
City of Kiel Utilities
P.O. Box 98
Kiel, WI  53042

In person - Utility Office, City Hall (621 Sixth Street)
Monday - Thursday 7:00 am - 4:30 pm
Fridays 7:00 am - 12:00 pm
*There is also a mailbox located on Sixth Street, directly in front of the City Hall building where payments can be dropped off.

Direct Pay
Click "Direct Pay" and fill out the form attached and return it to the Kiel City Hall to have payments taken directly from your checking/savings account. Payments are withdrawn monthly on the 17th.

Utility payments are due on the 20th of every month, and a 1% late fee will be added to all payments received after the 20th of the month.

If you have any questions regarding your utility bill, contact our Utility Clerk Debbie at (920) 894-2909 ext. 103 or email.

If you paid too little, the balance will be spread over the new Budget Billing year.